Your Name in Lights!
If there's one touch that wows people, it's a monogram projection. Wedding guests are always amazed when they walk into a room and see the bride and grooms name or initials shining in light. Coupled with up-lighting, the effect can be quite dramatic.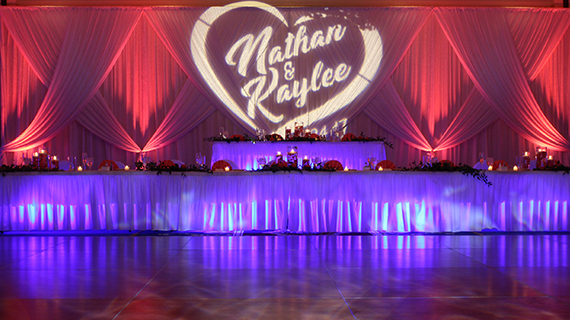 One of the most elegant touches for any wedding!
We use a state of the art projectors that looks great in daylight and especially amazing during your first dance and evening party.

Our monograms can be strategically placed on the dance floor, on walls or on the ceiling to create a visual enhancement that will make your reception stand out. Imagine dancing your first dance with your names or initials on the dance floor

We design your monogram based on your own tastes and submit several artwork options for your approval. This includes different fonts, finales, and accents to make your monogram or name projection uniquely you.

Add Your Name in Lights for just $250
Let's get your party started!